Rik Wilmitch
Bass Guitar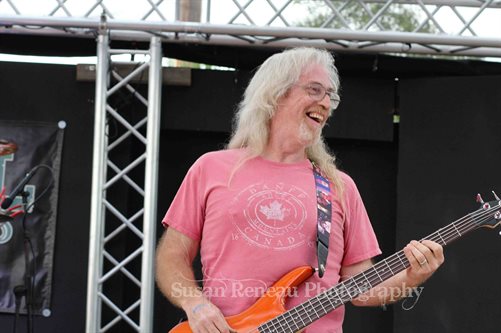 Photo Courtesy, Susan Reneau Photography. 2017

Born and bred in the "Rust Belt" of Northeastern Ohio, Rik grew up around some of the industry's finest. Centrally located between Cleveland, Akron and Pittsburgh Rik was exposed early to artists like Chrissie Hynde, Joe Walsh, Donnie Iris and Rick Derringer to name a few.
While an engineer at Peppermint Records in Northeast Ohio, his musical talents were often recruited to perform on various recordings as well as arrange and sing lead and backing vocals, guitars and keyboard. Rik wrote and produced commercial jingles and arranged original compositions for solo artists and songwriters.
In 1990 Rik hooked up with the Chicago Style Blues Band "Mars Needs Women" playing harmonica, Organ and Piano sharing the stage with the likes of Blues greats, "Fat Boy Slim" and "Bobby Blue Bland."
In 2008 Rik"s sights turned "Westward Bound", moving to Fresno, CA. Rik joined Country ban, "Hillbilly rock Star" and was quickly hired as a Recording/Live Sound engineer at Pyramid Recording in Fresno.
In addition to the position of Bass Player for "Dakota Crossing," Rik is currently playing Central and Northern California with Foreigner Tribute-"Foreigner Un-Authorized", Latin Jazz Duo-"Gypsy Moon", Variety Duo-"Deidre and Rik" featuring Deidre Contino and local Classic Rock/Country Band-"Montage."
For more info, please e-mail Jim Belt: jbelt@dakotacrossing.net


Dakota Crossing On Instagram: @dakotacrossing